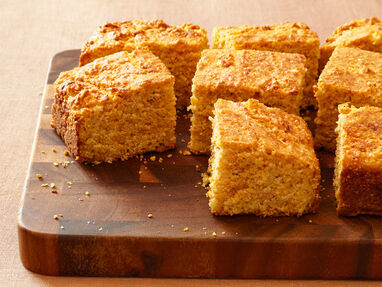 Southern Cornbread
Ingredients 5 tablespoons unsalted butter, plus more for the pan 3/4 cup all-purpose flour 3/4 cup yellow cornmeal 1 1/2 teaspoons baking powder 1/2 teaspoon baking soda 1/2 teaspoon kosher salt 1 cup buttermilk (shake before measuring) 2 large eggs

Directions Preheat the oven to 425 degrees F and position a rack in the middle. Butter an 8-inch-square baking pan.
Melt the butter in the microwave in a microwave-safe dish in three 15-second intervals on high or in a small pan on the stove. Set it aside to cool.
In a bowl, whisk together the flour, cornmeal, baking powder, baking soda and salt.
In a large bowl, whisk together the buttermilk and the eggs. Add the melted butter. Add the flour-cornmeal mixture and stir just until combined. Pour the batter into the pan. Bake until the cornbread just begins to brown and a toothpick inserted in the center comes out clean, 18 to 23 minutes. Cool for about 10 minutes before serving.
Recipe can be found here.
Ad blocker interference detected!
Wikia is a free-to-use site that makes money from advertising. We have a modified experience for viewers using ad blockers

Wikia is not accessible if you've made further modifications. Remove the custom ad blocker rule(s) and the page will load as expected.