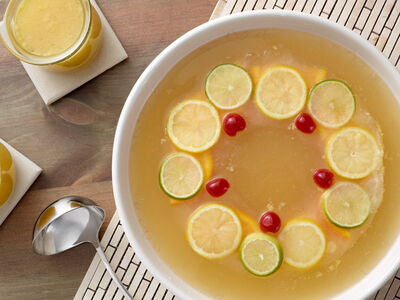 Southern Comfort Punch
Edit
Ingredients 1 large can frozen orange juice concentrate 1 can frozen banana daiquiri mix 3/4 cup lemon juice 1 1/2 liter ginger ale 1 5th bottle whiskey, or to taste Lemonade Ice Ring, recipe follows

Directions In a large punch bowl, combine orange juice concentrate, banana daiquiri mix and lemon juice. Stir to blend. Slowly add ginger ale. Remove excess foam with a spoon and stir in Southern Comfort. Add lemonade ice ring.
Lemonade Ice Ring: 2 lemons, sliced round
1 orange, sliced round
2 limes, sliced round
1 small jar maraschino cherries
1 quart lemonade
1 sprig mint, optional
In a round mold, place some sliced lemons, oranges and lime rings in the bottom. Place cherries in the center of the orange rings. Slowly add lemonade just to cover. Freeze. Remove mold from freezer and add more fruit and mint leaves. Slowly fill with lemonade and freeze again. Place frozen ice ring in punch.
Yield: 1 ice ring
Prep Time: 10 minutes, plus freezing time
Ease of preparation: easy
Recipe located here.