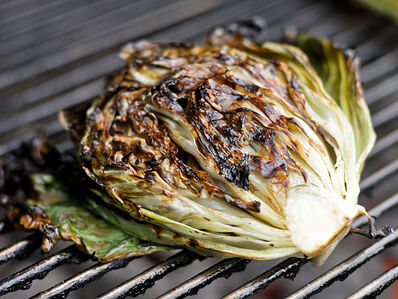 Ingredients
Edit
1 medium head red leaf lettuce, torn into pieces, rinsed, and dried
1 head radicchio, cut in half and rinsed
6 knob onions
Olive oil
Kosher salt
Freshly ground black pepper
For the vinaigrette
4 tablespoons extra virgin olive oil
1 tablespoon sherry vinegar
2 teaspoons Dijon mustard
1 medium shallot, finely minced
Type of fire: two-zone indirect
Grill heat: medium-high
Directions
Edit
Whisk together all of the ingredients for the vinaigrette a small bowl and set aside.
Light one chimney full of charcoal. When all the charcoal is lit and covered with gray ash, pour out and arrange the coals on one side of the charcoal grate for indirect cooking. Clean and oil the grilling grate. Brush the onions and radicchio all over with olive oil and season with salt and pepper to taste. Place the onions on the hot side of grill and cook until browned, about 2 to 3 minutes per side. Move to the cool side of the grill, cover, and continue cooking until onions are slighty soft, about 10 to 15 minutes more. Remove from the grill and set aside. Place the radicchio on the hot side of the grill, cut side down, and cook until edges are crisp and it just begins to soften, about 2 to 3 minutes. Remove from the grill.
Chop the onions and radicchio medium and toss together in a big bowl with the prepared lettuce. Portion out into bowls or plates, drizzle with the vinaigrette and serve.
More detail of this recipe here
Ad blocker interference detected!
Wikia is a free-to-use site that makes money from advertising. We have a modified experience for viewers using ad blockers

Wikia is not accessible if you've made further modifications. Remove the custom ad blocker rule(s) and the page will load as expected.