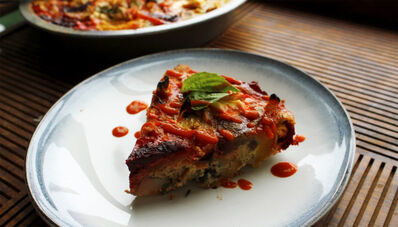 Ingredients
1 parsnip (182g), peeled and chopped
1 big turnip (178g), peeled and chopped
a few Jerusalem artichokes (140g), scrubbed and chopped
2 red beets (100-150g)
2 golden beets (100-150g)
½ sweet onion (175g), cut into wedges
5 cloves of garlic
1 ½ teaspoons olive oil
1 – 2 teaspoons of Bragg's Seasoning
½ teaspoon dried basil
¼ teaspoon smoked paprika
1 teaspoon of salt, divided
cracked black pepper to taste
I full package of ground seitan (optional [but why in the hell wouldn't you want seitan?!? Oh. Because you're gluten-free. I see. Sorry.])
15 tablespoons egg whites
2 large eggs
¼ cup almond milk
2 oz Icelandic or Greek yogurt
8 tablespoons (½ cup) soft goat cheese, divided
fresh basil leaves, chopped
Instructions
Edit
Preheat your oven to 400 degrees. Line a baking sheet or jellyroll pan or giant roasting dish with tin foil.
In a large bowl, toss your cut veggies (but not the beets) with the braggs, pepper, ¾ teaspoon of salt, paprika, and olive oil. Spread them out on the big pan with the tin foil and scatter your 5 garlic cloves around there too.
Wrap your beets separately in tin foil and place them in another roasting dish.
Put the cut veggies in the oven on the top rack and the beet baking dish is on the second rack. Take the cut veggies out after 40 minutes or so, the beets out after an hour. Once the beets have cooled enough to handle, the skin should just come right off very easily with your hands. Cut the beets into half moon slices and toss with that last ¼ teaspoon of salt and pepper to taste along with another ½ teaspoon of braggs and a dash of paprika.
Toss the cut veggies with your ground seitan and ¼ cup of chopped basil in a large bowl. Set aside.
Set the oven down to 375. Spray a large pie pan with cooking spray. Spread the cut veggies and seitan mixture evenly in the pan.
In a medium bowl, whisk together the eggs, egg whites, and almond milk. Whisk in the yogurt. Whisk in 3 tablespoons of goat cheese and the remaining chopped basil. Add a dash of salt and pepper. Pour the liquid mixture on top. Evenly add in the beets – I sort of made mine pinwheel out a bit. Plop down the remaining 5 tablespoons of goat cheese – ½ to 1 tablespoon at a time – in between some tasty nooks and crannies.
Bake for 45-40 minutes or until the eggs have set in the center and the edges are golden brown.