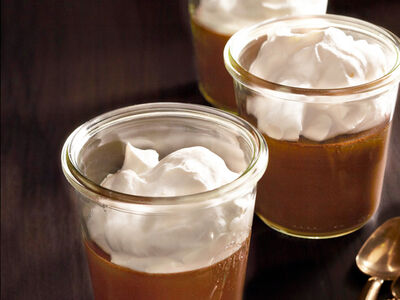 Pots de Creme
Edit
Ingredients 12 ounces semisweet chocolate chips 4 large eggs, at room temperature 2 teaspoons vanilla extract 1 pinch salt 8 ounces (1 cup) very hot strong coffee 1 cup heavy cream 2 tablespoons sugar

Directions Place the chocolate chips in the blender. Crack in the eggs, then add the vanilla and the salt. Pulse 5 to 7 times, or until the chocolate chips are partially pulverized.
Turn on the blender, then pour in the very hot coffee through the hole in the top in a steady stream. The coffee will melt the chocolate and turn it into a smooth mixture.
Pour the mixture into small mason jars, pretty wine glasses or demitasse cups. Place the jars on a tray and refrigerate them for 2 to 3 hours, or until firm.
Whip the cream with the sugar and plop it onto the top of each glass.
Recipe here.
Ad blocker interference detected!
Wikia is a free-to-use site that makes money from advertising. We have a modified experience for viewers using ad blockers

Wikia is not accessible if you've made further modifications. Remove the custom ad blocker rule(s) and the page will load as expected.