Plan A: Time to conquer Moules!
Edit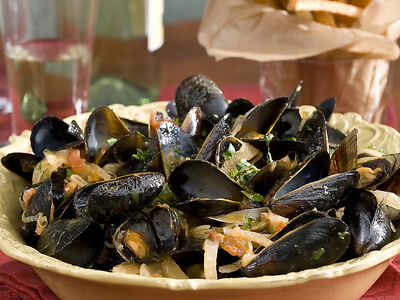 Ingredients
Edit
For the mussels:
2 tablespoons olive oil
4 ounces small diced pancetta
1 1/2 cups thinly sliced fennel
1/2 cup thinly sliced medium onion
1/4 cup thinly sliced shallots
2 teaspoons minced garlic
1 cup Pernod or dry white wine
2 tablespoons tomato paste
2 cups peeled and small diced tomato concasse
1/4 teaspoon salt
1/4 teaspoon crushed red pepper flakes
4 pounds mussels, scrubbed and de-bearded
2 tablespoons anise flavored liqueur (recommended: Pernod)
2 tablespoons chopped fresh basil leaves
2 tablespoons chopped fresh parsley leaves
For the fries:
4 large russet or kinnebec potatoes, peeled and cut into 1/4 by 1/4-inch thick batons
2 quarts peanut oil
Salt and pepper
Directions
Edit
For the Mussels: Set a very large saute pan over medium heat and add the olive oil. Once the oil is hot, add the pancetta and render until crispy, about 5 to 6 minutes. Add the fennel and saute until softened, 2 to 3 minutes. Add the onion and shallots and saute, stirring often, for 1 minute. Add the and saute for 30 seconds. Raise the heat to medium-high and deglaze the pan with Pernod or white wine. Reduce the Pernod until nearly evaporated, about 3 to 4 minutes. Add the tomato paste, tomato concasse, salt and crushed red pepper flakes and bring to a boil. Add the mussels and anise liqueur to the pan and stir once, cover with a lid, and cook until the mussels just begin to open, about 4 to 5 minutes. Remove the lid, add the basil and parsley and stir the mussels. Serve the mussels in large, deep bowls, and serve with French fries on the side.
For the fries: Drain ice water from cut fries and wrap potato pieces in a clean dishcloth or tea towel and thoroughly pat dry. Add fries, a handful at a time, to the hot oil. Fry, stirring occasionally, until potatoes are soft and limp and begin to turn a blond color, about 6 to 8 minutes. Use the basket to carefully remove fries from the oil and set aside to drain on paper towels. Let rest for at least 10 minutes or up to 2 hours.
When ready to serve the French fries, reheat the oil to 350 degrees F. Transfer the blanched potatoes to the hot oil and fry again, stirring frequently, until golden brown and puffed, about 1 to 2 minutes. Transfer to paper lined platter and sprinkle with salt and pepper, to taste. Serve immediately.
Find the full recipe here.