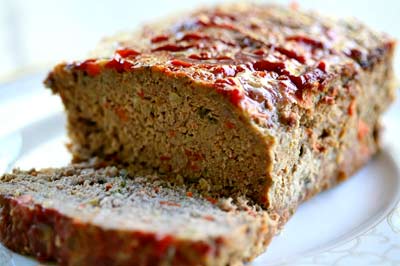 Old Fashioned Meatloaf
Edit
Ingredients 1 pound ground beef 1 1/4 teaspoons salt 1/4 teaspoon ground black pepper 1/2 cup chopped onion 1/2 cup chopped bell pepper 1 egg, lightly beaten 8 ounces canned diced tomatoes with juice 1/4 cup quick-cooking oats Topping: 1/3 cup ketchup 2 tablespoons brown sugar 1 tablespoon prepared mustard

Directions Preheat oven to 375 degrees F.
Mix all meatloaf ingredients well and place in a baking dish. Shape into a loaf.
Topping:
Mix ingredients for topping and spread on loaf. Bake for 1 hour.

Recipe here.
Ad blocker interference detected!
Wikia is a free-to-use site that makes money from advertising. We have a modified experience for viewers using ad blockers

Wikia is not accessible if you've made further modifications. Remove the custom ad blocker rule(s) and the page will load as expected.