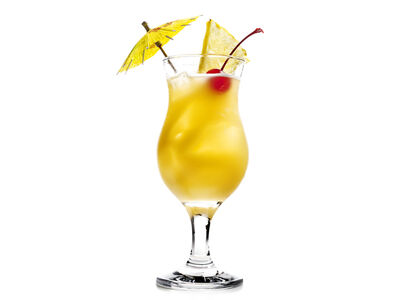 Ingredients 1 ounce dark rum 1/2 ounce light rum 1/4 ounce orgeat (almond-flavored) syrup 2 ounces orange juice 2 ounces pineapple juice 1/4 ounce triple sec Pineapple wedge and maraschino cherry, for garnish

Directions Mix the dark and light rum, orgeat syrup, and orange and pineapple juice in a cocktail shaker with ice cubes or crushed ice. Pour into a glass. Float the triple sec on top by pouring it over the back of a spoon. Garnish with the pineapple wedge and cherry.
Recipe here .
Ad blocker interference detected!
Wikia is a free-to-use site that makes money from advertising. We have a modified experience for viewers using ad blockers

Wikia is not accessible if you've made further modifications. Remove the custom ad blocker rule(s) and the page will load as expected.