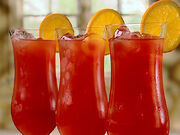 Hurricane
Edit
Ingredients Ice cubes 2 ounces light rum 2 ounces dark rum 2 ounces passion fruit juice 2 ounces pineapple juice 1/2 lime, juiced 1 tablespoon grenadine 1 orange, sliced into wheels, for garnish

Directions Fill the hurricane glasses with ice. Mix the rums, passion fruit juice, pineapple juice, lime juice, and grenadine in an ice filled shaker. Strain into the hurricane glasses. Garnish with a wheel of orange.
Find recipe here .
Ad blocker interference detected!
Wikia is a free-to-use site that makes money from advertising. We have a modified experience for viewers using ad blockers

Wikia is not accessible if you've made further modifications. Remove the custom ad blocker rule(s) and the page will load as expected.