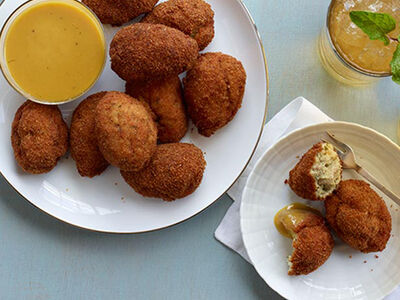 Ham Croquettes
Edit
Ingredients 3 pounds cooking ham, large dice 1 white onion, large dice 2 red peppers, large dice 2 cloves garlic, sliced 2 tablespoons tomato paste 1/4 bunch parsley, chopped 1/2 teaspoon fresh grated nutmeg 1/2 cup heavy cream 1/2 cup flour, plus 1/2 cup Salt and freshly ground black pepper 2 large eggs lightly beaten 2 cups cracker meal Canola oil, for frying

Directions In large saute pan, saute ham, onions, peppers, and garlic. Add tomato paste and caramelize. Add parsley, nutmeg, and heavy cream. Sprinkle with 1/2 the flour.
Season, cool, and grind in meat grinder. Shape into finger sized sticks or patties. Bread using remaining flour, egg, and cracker meal.
Heat a saute pan filled 1-inch with canola oil to 375 degrees F. Fry the croquettes until golden brown.
Recipe is here.