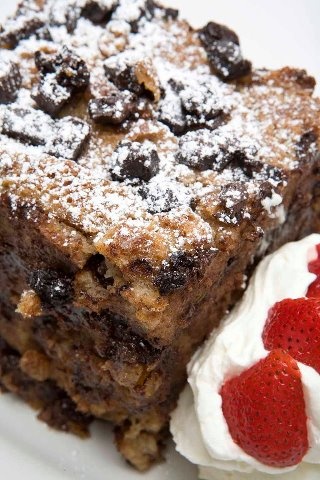 Chocolate Bread Pudding
Edit
Ingredients 1 (1-pound) loaf French or Italian bread, cubed 3 cups milk 1/4 cup heavy cream 1/2 cup coffee flavored liqueur 1 cup sugar 1 cup packed light brown sugar 1/4 cup cocoa powder 1 tablespoon vanilla extract 2 teaspoons almond extract 1 1/2 teaspoon cinnamon 6 eggs, lightly beaten 8 ounces semisweet chocolate, grated Whipped cream (optional)

Directions Preheat oven to 325 degrees F.
Lightly grease a 13 by 9-inch baking dish and place the bread in the dish. In a large bowl, whisk together the milk, cream, and liqueur. Using another bowl, combine the sugar, brown sugar, and cocoa powder and mix well. Add the sugar mixture to the milk mixture and mix well. Add the vanilla and almond extract, and cinnamon to the beaten eggs. Combine the egg mixture to the milk mixture and mix well.
Stir the grated chocolate into the mixture. Pour the mixture over the cubed bread in the pan. Let the mixture stand, stirring occasionally for approximately 20 minutes or until bread absorbs most of the milk mixture. Bake pudding for 1 hour or until set. Check pudding by inserting a knife through the middle and it should come out clean.
Serve the pudding warm, or refrigerate and serve chilled with whipped cream if desired.
Recipe here.