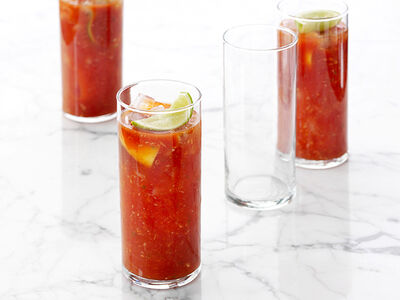 Spicy Citrus Bloody Mary
Edit
Ingredients 2 to 3 cups ice 1 lemon, cut into wedges 1 lime, cut into wedges 1 tablespoon horseradish, drained 1 jalapeno pepper, minced Pinch salt 2 cups vodka 3 cups tomato juice 1 tablespoon Worcestershire sauce

Directions Muddle ice, lemon wedges, lime wedges, horseradish, jalapeno, and salt in the bottom of a pitcher. Add vodka, tomato juice, and Worcestershire and stir to combine. Refrigerate if not serving immediately, or pour into glasses over ice and serve.
Reecipe [http:// http://www.foodnetwork.com/recipes/bobby-flay/spicy-citrus-bloody-mary-recipe/index.html?oc=linkback here. ]
Ad blocker interference detected!
Wikia is a free-to-use site that makes money from advertising. We have a modified experience for viewers using ad blockers

Wikia is not accessible if you've made further modifications. Remove the custom ad blocker rule(s) and the page will load as expected.