Plan A: Conquer Granola!
Edit
Ingredients
Edit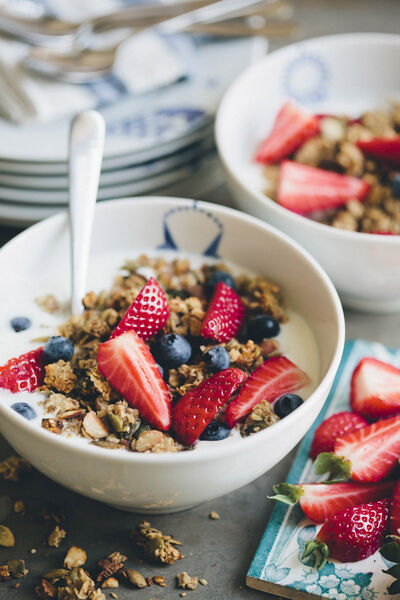 3 cups / 250 g / 700 ml rolled oats (gluten-free, if needed)
1/2 cup / 80 g / 120 ml raw almonds, coarsely chopped
1/2 cup / 80 g / 120 ml raw pumpkin seeds
1/4 tsp vanilla extract or ground vanilla
3 tbsp coconut oil, room temperature
3 tbsp maple syrup, runny honey or date molasses
2 very ripe bananas, peeled and broken into smaller pieces
Preparation Instructions
Edit
Preheat the oven 400°F / 200°C and line a baking tray with baking paper.
In a large bowl, combine oats, almonds, pumpkin seeds, vanilla and salt. In a separate bowl add coconut oil, maple and bananas. Use your hands to mix the ingredients completely smoothly. Add the banana mixture to the dry mixture and combine well, using your hands, for about a minute, so all is well-coated and clumpy. Turn out and spread the granola in an even layer on the baking tray. Place in the middle of the oven and bake for 15 to 20 minutes, check at around 10 minutes and turn the granola over with a wooden spoon. Allow to cool completely before putting in a container. Serve with organic yogurt, preferable goat or sheep or almond milk and fresh fruit.
If you prefer it raw and have a dehydrator, this recipe will work too.
This recipe was originally created for the Swedish Ikea blog Livet Hemma. All bowls, plates and jars in the photos can be found on Ikea.
Plan B: Granola Fail!
Of course, no one is perfect. Granola can burn :-(. La Boulange has some of the best granola (with a dollop of yogurt). Undoubtedly, the best La Boulange in San Francisco is located on Union St. (see below)