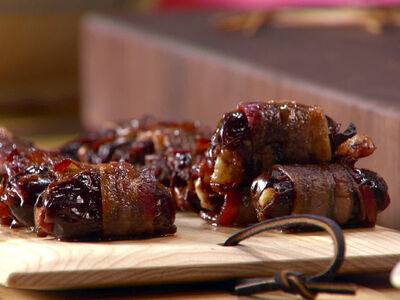 Bacon Wrapped Dates
Edit
Ingredients 15 Medjool pitted dates 1 pound aged Manchego, cut into 15 blocks 5 slices bacon, cut into thirds 1/2 cup maple syrup

Directions Preheat the oven to 400 degrees F.
Make an incision on one side of each date and insert a block of Manchego. Squeeze the date shut in your hand to secure. Wrap each date with a bacon strip and secure with a toothpick. Place all the dates on a sheet tray lined with a silicone mat or parchment paper. Roast the dates in the oven until the bacon on top is starting to crisp, 5 to 6 minutes. Turn the dates over and cook the other side until the bacon crisps.
Remove the dates from the oven and brush both sides with maple syrup. Return the dates to the oven until they are really crackly and sticky, 1 to 2 minutes. Serve hot.
Recipe here.
Ad blocker interference detected!
Wikia is a free-to-use site that makes money from advertising. We have a modified experience for viewers using ad blockers

Wikia is not accessible if you've made further modifications. Remove the custom ad blocker rule(s) and the page will load as expected.